Floating Wind Farm Study Summary
Since June 2020, SeaRoc Group has been collaborating with Seaspeed Marine Consulting Ltd. and independent marine consultant, Ian Sellwood, on a cutting-edge floating offshore wind study. The study was commissioned by the Carbon Trust Floating Wind Joint Industry Programme (FLWJIP) to investigate changes in turbine accessibility and the resultant operational availability as the industry moves from fixed to floating platforms.
Floating Wind Joint Industry Programme
FLWJIP is the Carbon Trust's collaborative R&D programme, dedicated to overcoming technological challenges and advancing commercialization of floating offshore wind. The programme is a partnership between the Carbon Trust and 17 offshore wind developers. The Access and Availability (A&A) project was delivered as part of the FLWJIP Stage 2 Phase 4.
Floating Wind Study
The project consisted of an initial literature review followed by a scoping study. The project commenced in September 2020 and concluded in January 2022.The Study work packages included the following with ongoing expert engagement throughout both phases of the project:
Baseline Data
Limiting Criteria
Motion Modelling
Decision Modelling
Development of Conclusions and Recommendations
FLWJIP Summary Report
The Stage 2 Phase 4 Summary Report was released on the 13th July 2022. This report provided a high-level overview of four key research projects delivered between 2020 and 2022.
Research on floating wind access and availability analysed how different access methods and floating platform types affected turbine availability, and the effects of floating platform motions on technicians. For a hypothetical minor repair, it found floating wind strategies were likely to be similar to those for fixed-bottom far-shore sites and that floating turbine nacelle motions were not expected to be a significant problem with respect to motion-induced sea sickness.
The Carbon Trust's Phase 4 report can be accessed here.
Project Partners
Seaspeed Marine Consulting Ltd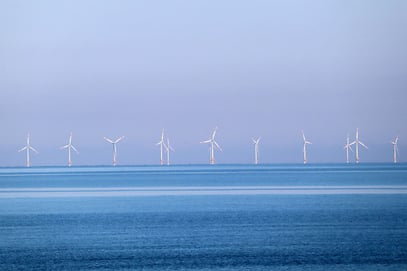 Seaspeed Marine Consulting Ltd. was the technical and commercial lead in this project covering the assessment of access, availability, and ultimately opportunity cost, across a range of floating wind turbine platforms using a variety of access vessels. The company specialises in the simulation of ship and marine system performance at sea and used its expertise in hydrodynamic modelling, market assessments, and cost modelling to address the objectives of this project. Seaspeed was recently acquired by Houlder Ltd. and is now integrated in this large marine engineering consultancy focusing on the offshore wind energy sector.
SeaRoc
Founded in 2002 to develop site management and co-ordination solutions that help support the build, management, and operation of offshore renewable energy projects, SeaRoc is trusted by some of the biggest names in offshore and onshore construction and infrastructure. As one of the first software providers in the market, SeaRoc solutions benefit from years of experience working with industry leaders on real-world offshore projects. SeaRoc's consultancy team provided valuable operational and health and safety input to the study, utilising experience gained from direct involvement in offshore construction.
Ian Sellwood / Lavant Innovation
Lavant Innovation supports businesses to develop effective new product development processes. With an extensive background in commercial shipping, offshore wind, data analysis and customer engagement, Lavant Innovation integrates teams across business functions, customers and suppliers to provide solutions to complex problems.
With expertise in defining successful outcomes to complex technical challenges, Ian Sellwood brought the invaluable skill to the team of being able to extract critical details through industry engagement. Experience in understanding the opportunities and challenges for innovation in various markets ideally positioned Ian to engage with operators and suppliers within the offshore wind industry, bringing invaluable insight to the study.
More Information
If you are interested in more information on this study, please contact us. and we would be happy to share further details.